Staff
Lisa Bruskin
Executive Director
Lisa was born in England, and later moved with her family to Israel as a young child. In the mid-1970s, she and her family relocated to New York City. Lisa attended Hunter College, where she graduated with a B.S. in physical education/corrective exercise, with a minor in education. Lisa's career in fitness began having worked on cruise ships for seven years, traveling the world. Thereafter, she entered the non-profit world, working for more than 20 years at several JCCs in New York — including 10 years at the Riverdale Y as the director of member engagement and wellness. For many of those 10 years, she oversaw a very successful half-marathon, 10K, and 5K run/walk that drew hundreds of runners each year of all ages.
Lisa is very good at creating community, and with much determination, she plans to build a hub for the Bronx and its surrounding communities to come in and enjoy our services and our expanding programming.
Lisa keeps all the moving parts of our Temple moving, with much of her work done behind the scenes. She would love to hear from you and looks forward to building out our Temple family's home and all that it offers.
execdirector@riverdaletemple.org
(718) 548-3800 x2
---
Alexandra Abikzer
Director, Riverdale Temple Nursery School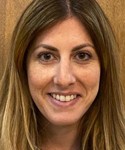 Alexandra Abikzer has been an Early Childhood Educator for over 10 years. She has taught Threes and Fours, Kindergarten and First Grade in both Public and Private Schools.
For the past six years, she has been a lead teacher in our 3s and 4s program. Alexandra also founded Ali's Art in the Park, an outdoor art class for children 18 months to 8 years old.
She has a Master's of Education in Early Childhood from Hunter College, and a Bachelors of Science in Corporate Communications. Alexandra is passionate about Early Childhood Education. She believes that this is the most important part of education, because it is the foundation upon which all other education is built.
The most important thing about a school, for Alexandra, is that it is a loving, caring supportive place for children, families and teachers. She is a Progressive Educator and believes strongly that children's ideas and passions are important and should be celebrated and encouraged.
She has three children, and an amazing husband, Jonathan. She loves art, children's books and working at Riverdale Temple Nursery School! She especially loves the warmth of the community, teachers and parents.
Alexandra wants you to know that her doors are always open, and she will always strive to do what is best for our teachers and families.
More about the nursery school here!
director@riverdaletemplens.org
(718) 796-0335 or (718) 548-3800 x3
---
Judy Weinberg
Education and Engagement Specialist, Simcha Learning Center
Judy's philosophy of Jewish education and engagement is to strive to provide a warm and inviting environment in which children and parents enjoy coming to synagogue, whether for the Simcha Learning Center, a family program or services. Judy believes that we must offer our families a rich foundation and a wealth of knowledge. Striving to provide opportunities to explore and make friends and feel part of a caring community in a creative, fun, hands-on and interesting format. Engaging the minds and souls of our current and future generation.
Judy, American born, grew up in Israel. After serving in the Israeli Air Force and receiving her BA from Hebrew University in Jerusalem, Judy returned to the United States to work as Director of Student Activities at Brandeis Hillel where she received her first Master's degree in Management for Non-Profit Organizations. She earned a second Master's degree in Jewish Education from Hebrew College. Jewish Education has been a lifelong passion.
More about the Simcha Learning Center here!
SLC@riverdaletemple.org
(718) 548-3800 x6
Thu, December 7 2023
24 Kislev 5784
Thu, December 7 2023 24 Kislev 5784